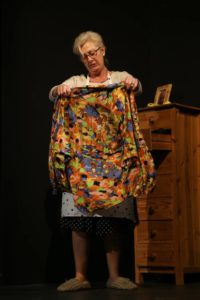 Little Grains of Sand was one of two plays in the 2016 oneACTS written by Andy Moseley.
Andy is the writer of perhaps the most travelled play ever to be performed at the oneACTS as his first play Are You Lonesome Tonight? went from the oneACTS in 2009, to three productions in Memphis, the home of the man who inspired it, in 2015, 2016 and 2019.
Since then, Andy has gone on to have great success as a writer with his plays Casual Encounters, After We Danced and A Beginner's Guide to Populism enjoying sell-out shows and 4 and 5 star reviews at Edinburgh, Buxton and Camden Fringe festivals. After We Danced had its first public performance at the cornerHOUSE in 2015 and his latest play Make-Up was also scheduled to debut at the cornerHOUSE in May before going on to tour the UK fringe festivals. Andy now hopes to be able to bring the play to the cornerHOUSE later in the year.
In the meantime, here is Little Grains of Sand. Little Grains of Sand CornerHOUSE Monologue
For more information about Andy and the play, please go to his website