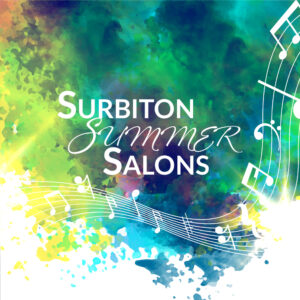 Following the decision to cancel this year's Summer Salons the Surbiton Summer Salons team have been contacting artists that would have been performing this year and those that have performed in previous editions of the festival. Due to their generosity of time and spirit, they are now able to offer an online festival this year.
Running from 22nd – 26th July, they'll be streaming short concerts and workshops on their new YouTube Channel.  The events will become available at the advertised times and remain available for a week if you can't watch at the time.
The videos are free to watch but with each video you'll see a Paypal Donate link if you would like to make a donation.  All proceeds will be split between Surbiton Salons and The CornerHOUSE Community Arts Centre.
And if you're interested in storytelling, they've also got a live storytelling workshop being held on Zoom!
Details of all of the concerts and workshops can be found below with more information on the Surbiton Salons website.
Wednesday 22nd July
Early music ensemble, Ceruleo, have been recording during lockdown and we're delighted to be able to share their recordings with you. Full details on Surbiton Salons here.
Thursday 23rd July
Join Ollie for an interactive Body Percussion workshop guaranteed to have the neighbours joining in! Full details on Surbiton Salons here.
Friday 24th July
Russian-Lithuanian pianist Jelena Makarova performs "Night Mirrors" by Angela Slater. Full details on Surbiton Salons here.
Saturday 25th July
Festival regular Toby Carr is joined his wife, Aileen Henry on harp to give a concert they recorded in their living room! Full details on Surbiton Salons here.
Sunday 26th July
Workshop from Belinda McKenna. Please email moc.snolasnotibrusnull@ofni to sign up for this live workshop and to receive the Zoom link. Full details on Surbiton Salons here.
The final concert features mezzo-soprano Catherine Backhouse, soprano Emily Barden and her choir the West Sussex Singers, actress and singer Anne-Marie Piazza, and internationally-acclaimed vocal ensemble Apollo5. Full details on Surbiton Salons here.