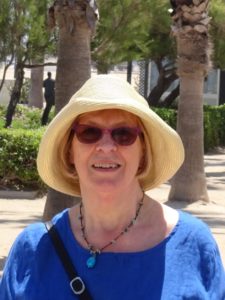 Gill is an accomplished artist in Stitched Textiles and Paint. She learned to sew and knit from her mother and to draw from her father, plus many adult education classes including nine years of pottery whilst also pursuing a career in TV Advertising.
After having children Gill turned to tapestry weaving and then embroidery.
She now holds City and Guilds qualifications in Embroidery and, on completion of studies, exhibited with Opus (now Modus) Textile Group. Gill has been an active member of the Kingston Branch of the Embroiderers' Guild for over thirty years, serving on the committee and exhibiting at Kingston Museum Gallery. She has led the SMARTIES embroidery group at St. Matthew's since 1996 and together they have made 15 beautiful banners for the church and for a church in Malawi.
Gill has been involved in the cornerHOUSE from its start, volunteering as cash manager, front of house and bar, and has made many props and costumes, from giant pigeons & panto dames to horse poo.
Commissions
8' x 8' wallhanging in paint, print, appliqué & stitch for St George's Church, Tolworth, for their 60th anniversary.
Altar frontal for St Matthew's Church, Surbiton
Altar cloth for St Paul's, Hook.
Gill likes to work on anything from big, sloshy watercolours to intricate stitch & beading. For this exhibition, she concentrated on Spring flowers, clouds & jungle plants, and the patterns made by overlapping leaves.
Gill's exhibition runs from 8th July – 5th August.
Meet the artist night is on Tuesday 10 July from 7 to 9pm
She can be contacted on:
ku.oc.liamtohnull@traseivadllig