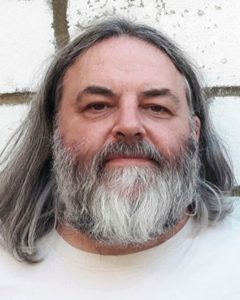 Greyswood Art + Design was set up in 2016 by Julia and Graeme Armstrong as a vehicle for Graeme's creativity which had remained dormant for most of the previous 30 years! This was reawakened by studying graphic design at ual: Chelsea – and he is now a full-time artist. His main body of work combines a graphic style with photographic source material to produce digital art prints – but he has also been known to lift a paint brush occasionally, and several one-off multi-media pieces also feature in the collection shown here.
Graeme's art examines many themes. It looks at our place in nature, and the beauty and inevitability of decay – and considers our increasingly antagonistic relationship with our environment. His more recent work explores ideas around memory and identity – and how we are all our own construct, creating our own personal narratives through our memories and imagination.
The cornerHOUSE exhibition is the culmination of a busy year in which Graeme has focussed on making work that is both interesting and creatively satisfying to him, sometimes with abrasive and challenging results.
'An Absent Howl' features a series of new pieces that deal with issues of absence and departure. Many of them are a response to his recent decision to leave the metropolitan bubble of Southwest London and head back to The North…
Graeme's exhibition runs from 2nd September – 7th October and he can be contacted on:
moc.tradoowsyergnull@emearg