oneACTS 2018 – Actors page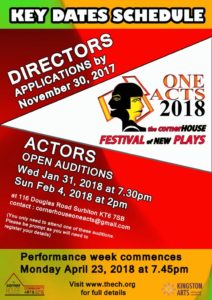 Fancy acting in a short play? Then the cornerHOUSE oneACTS 2018 could be just the thing for you. Kingston's most respected platform for original playwriting is looking for actors to perform in this year's showcase of local writing talent.
Whether you are an experienced actor or a complete novice, there could be a place for you in one of the oneACTS which will be performed at the cornerHOUSE from Monday, April 23 to Saturday, April 28
This will be the 13th year the arts centre has run the festival, which has become a well established and highly respected event in the local arts scene.
The festival of one act plays features short pieces by talented local writers – some serious, some funny, some both.
The plays are only 15 to 30 minutes long, which means that it's a great opportunity to be involved in a show without a heavy time commitment, but you will still be able to enjoy the buzz of being part of a large, dynamic team of playwrights, directors, actors and crew, all working towards providing a week-long feast of original, quality-driven entertainment.
So why not come to our open auditions  on Wednesday, January 31 at 7.30pm or Sunday, February 4 at 2pm to see what it is all about? You only need to attend one of these auditions. All you need to bring with you is enthusiasm and a willingness to have a go. We are looking forward to meeting you. (Please turn up on time for the audition as you will need to register your details).