Martine Daniels
Artist on-line at the cornerHOUSE
Martine is French and was born in Paris. She did her training in dressmaking and worked for Pierre Balmain a French luxury fashion house, Balmain described the art of dressmaking as "the architecture of movement."
Martine met her husband while she was travelling and came to live in the UK about 30 years ago.
She lived in Brighton for a while and made gloves working for Cornelia James 'glove makers by appointment to Her Majesty the Queen'.
Martine travels to the USA to visit her family in Los Angeles and New York. As her husband is British they also enjoy travelling in the UK.
Martine's favourite artists are Chagall, Matisse and many other contemporary painters.
All of which is reflected in Martine's exhibition.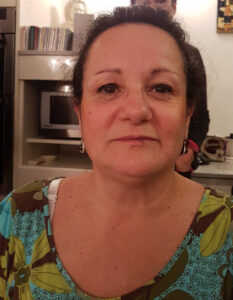 Martine will be exhibiting at the cH in due course and can be currently contacted on
ku.oc.oohaynull@kleenitram
"My inspiration comes from the everyday things around me. I don't have a unique style, I paint things that move me and have meaning in my life"
Gallery
Please click on the images below to view larger.