Louise Anderson
Artist on-line at the cornerHOUSE
What Window Are We Going To Go Through Today?
Window (win'do) – wall of a building for admission of light and air, closed by glass.
(Collins' National Dictionary & Encyclopaedia)
Louise Anderson is an artist and printmaker living in Teddington, inspired by the natural world and she finds herself continually drawn to nature where within this, she can find stillness and peace.
Being in nature is like a meditation, time is lost, and you are able to clear your mind and wipe the slate clean.
Through this new body of work she explores the memories of loss and stillness by looking through the windows onto life.
The exhibition comprises of printmaking, photography and cyanotype prints.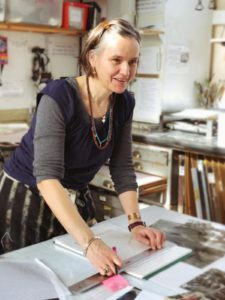 Louise studied for an MA, Art & Space at Kingston School of Art and her love and joy for printmaking began at a Summer School at Putney School of Art & Design. She is passionate about inspiring and enabling people to find their own creativity and teaches locally at Kew Art Studio, Kingston Museum, Landmark Arts Centre, Isleworth Art Club and offers 1-1's as well as bespoke classes for all ages. She has exhibited both local and internationally.
Louise is also exhibiting as part of a selected show at Orleans House Gallery, Twickenham 'Beyond the Frame' 22 Feb – 31 May 2020
Louise exhibited at the cornerHOUSE from 3rd March – 4th April 2020 and she can be currently contacted on moc.liamgnull@tranosrednaesiuol
Gallery
Please click on the images below to view larger.
© All material is shown on the site with the express permission of it's writer or creator who reserves all rights to it. No material may be used, copied or otherwise reproduced without prior permission from both the cornerHOUSE and the individual rights owner.