09jul7:00 pm9:00 pmIn Focus - Gala Night7:00 pm - 9:00 pm Event Type :Art,Exhibition,Photography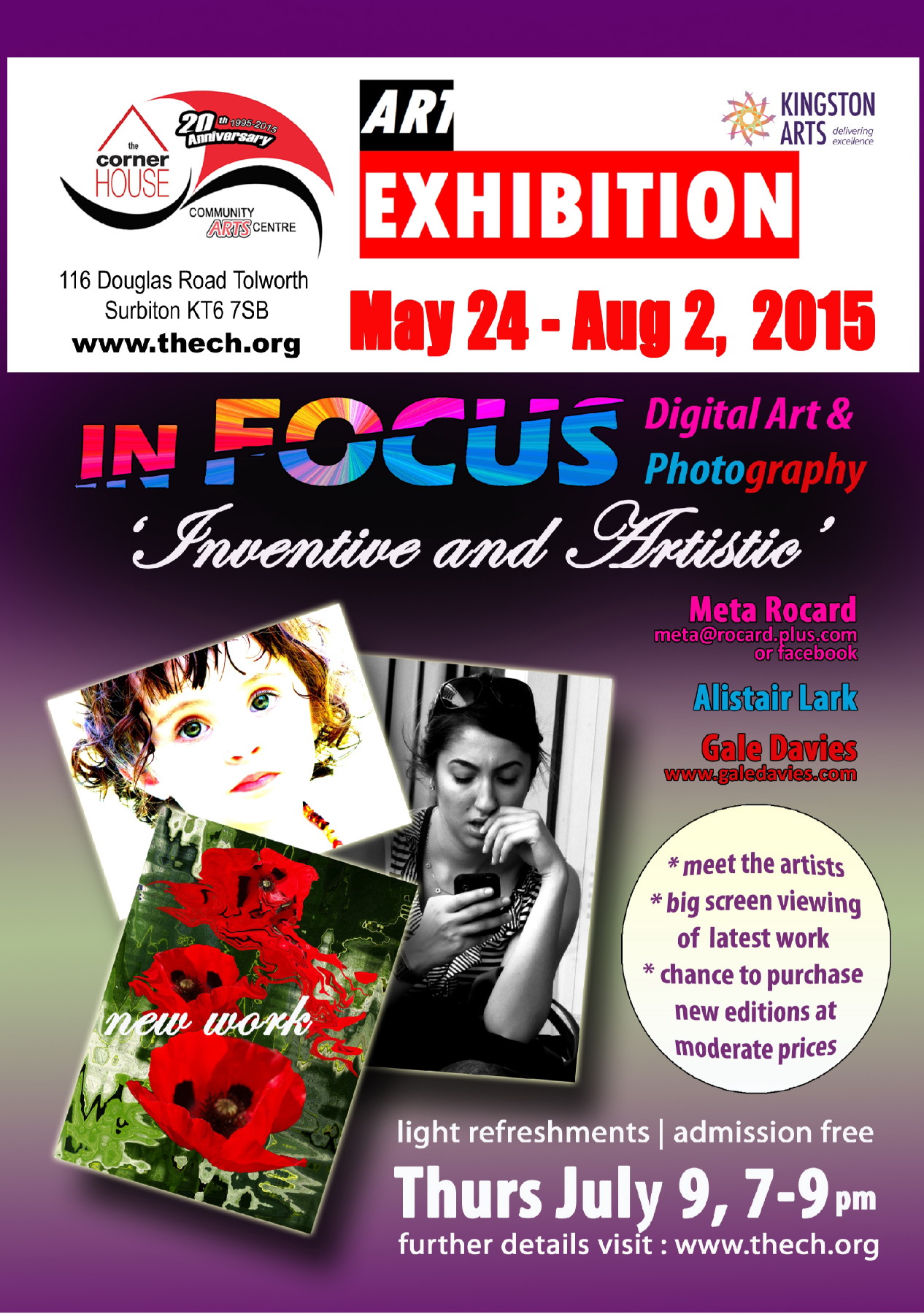 Event Details

IN FOCUS is a joint art and photography exhibition by Meta Rocard, Alistair Lark and Gale Davies at The cornerHOUSE, Community Arts Centre, 116 Douglas Road, Surbiton, KT6 7SB. By popular demand a second Special Gala Night has been added on Thursday July 9, 7pm – 9pm

Profiles of the artists by the artists

Meta Rocard.

Creating art and illustration on computer is my speciality upon retirement.

Mainly self taught apart from summer courses at Wimbledon School of Art I strive to create abstract and surreal images by infusing and enhancing extracts from my photographs, drawings and paintings. My imagination is stimulated by the brilliant colour and flowing petal shapes of flowers, the structural formation of objects and the action and facial expression of life form.

Artists from the past such as Picasso, Dali and Chagall who interpreted art in new and exciting ways give me inspiration as do those who introduce a modern day blend of graphics and photographic compositions.

Some of my work is currently exhibited in the Cafe Court Farm Gallery at the Garden Centre in Kingston Road, Tolworth and at the Kingston Arts office space in Surrey House, 3rd Floor 34A Eden St. Kingston.

'A Splash of Colour' is the theme title for my latest collection of 'Digital Fantasies' which include abstract impressions of WW1, 2012 Paralympics and cats in various situations particularly in an 'Unmade' Rose Bed!

Contact details: meta@rocard.plus.com or follow me on Facebook.

Gale Davies

I am a full time mother of two beautiful children Henry 4 and Briony 2. My two other passions are organising events and photography. Born in the 70s I remember clearly the old style cameras. I used to love collecting flash bulb cartridges once they were finished with. I love Malta, I was born and bred there, the sea is a big draw for me and I miss not living near it. The best way I can describe my love for the sea is that it's the forever youth of our planet and I find comfort, beauty and serenity looking at these photos. You can take the girl out of the island but you cannot take the island out of the girl. I hope you enjoy them as much as I do.

Contact details: www.galedavies.com or galedavies@outlook.com

Alistair Lark

My interest in photography initially stemmed more out of necessity than artistic curiosity. Originally being requested to assist during school exam drama performances, in order to create visual records of the exam pieces for record. (A role which still continues today). Soon however a fascination in the technical aspects of film, particularly 35mm Rangefinder Cameras took hold. Rangefinders prove to be an excellent tool in really slowing down and understanding the photographic process, not just composition, but also the triangular inter-relationship between, sensitivity, aperture and shutter speed. Migrating to digital meant that the foundations of these understandings could be put to good use, coupled with the capabilities of digital that far out-weigh what older 35mm cameras can do. I seldom use post production software. Most of the time what you see is what came straight out of the camera.
Time

(Thursday) 7:00 pm - 9:00 pm
Location

the cornerHOUSE

116 Douglas Road Surbiton Surrey KT6 7SB