14aug(aug 14)10:00 am19(aug 19)4:00 pmAladdin Jr - HMOS Summer Workshop and show10:00 am - 4:00 pm (19) Event Type :Children,Drama,Play,Workshop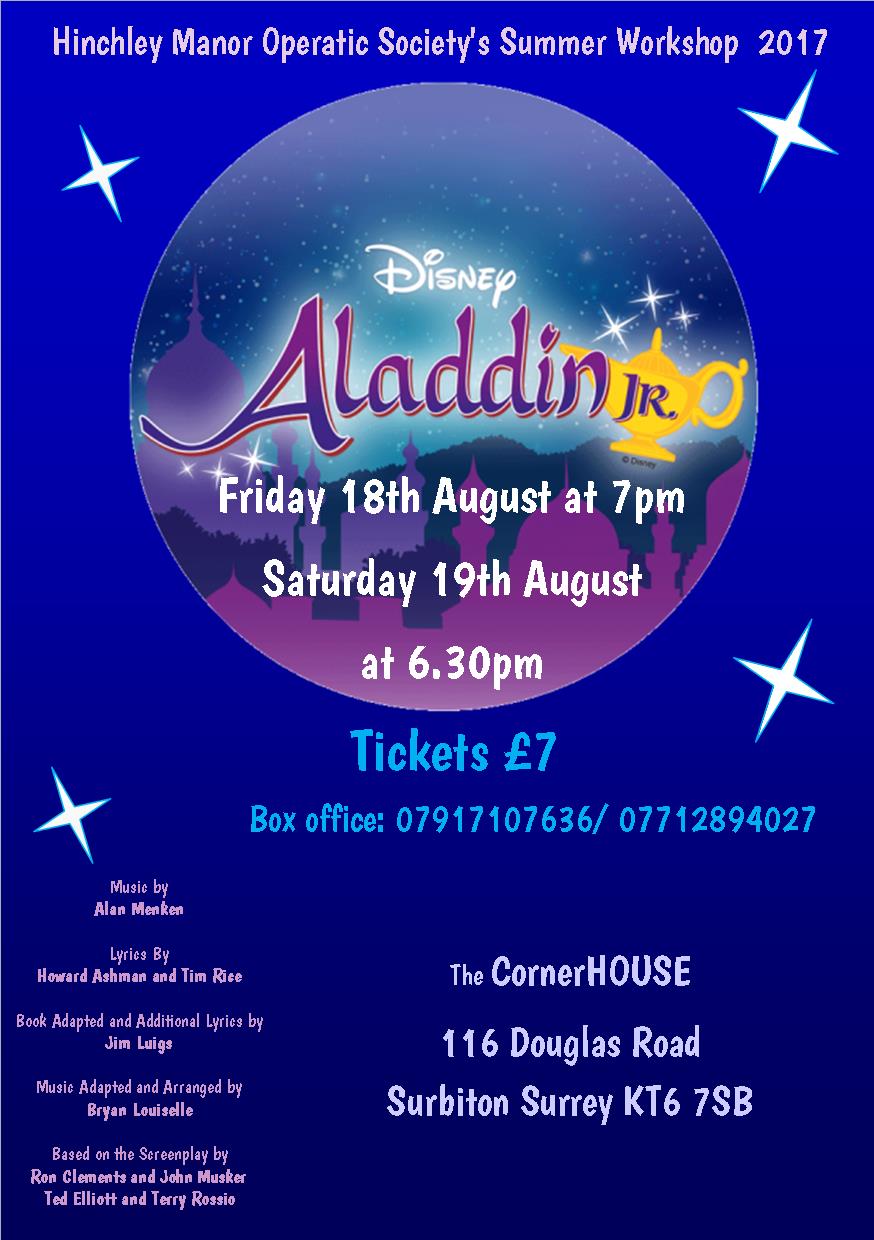 Event Details

HMOS will be running its 12th Summer Workshop and show at the cornerHOUSE in August.

The show will be Aladdin Jr. 

The workshop, at the Douglas Road arts centre from August 14-19, is for youngsters aged 5½ -18 years old. It will run each day from 10am to 4pm, Monday to Friday, with two performances at the end of the week. There will be one on Friday night (18th) and one on Saturday(19th), times to be confirmed. There will also be a rehearsal during the day on the Saturday (time also to be confirmed).

The objective of the week is to have lots of fun, while trying to get the best out of the children. HMOS aims to produce a high quality show at the end of the week, but the emphasis is on the word 'workshop' – what you see on the Friday and Saturday may not be polished performances because of the time constraints in rehearsing and putting on a show in just one week.

If you are interested in taking part in this year's Summer Workshop, phone the producer Kelly Neilson on 07917 107636. Kelly can give you more information and answer any questions you may have. There are limited spaces, so please do get your applications in quickly!

The cost of the workshop is £130. This includes a T-shirt (you can give the size you need when you apply).

There may be an option for a breakfast club at an additional charge. If you are interested in this, let Kelly know.
Time

14 (Monday) 10:00 am - 19 (Saturday) 4:00 pm
Location

the cornerHOUSE

116 Douglas Road Surbiton Surrey KT6 7SB